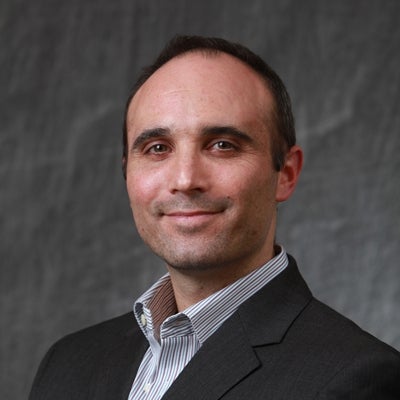 HASS Associate Dean for Academic Affairs and Professor
About
Brett Fajen conducts research on perception and action. His main interests are the visual control of locomotion and perceptual-motor learning and adaptation. His research on these topics contributes to the development of the ecological and dynamical systems approaches to perception and action.
"If you have ever been awed by the performance of a professional athlete, then you can appreciate some of the challenges that are faced when executing a skilled action," said Fajen. "Such tasks require rapid decision-making, anticipation, and coordination. In the Perception and Action Lab at RPI, my students and I use immersive virtual environments and motion capture technology to study how people navigate through complex, dynamic environments, and perform perceptual-motor skills such as running to catch a fly ball and blocking a penalty shot in soccer.  We hope to inspire ideas for designing more sophisticated robots, develop new training programs for teaching complex motor skills, and improve the diagnosis and treatment of problems that affect the perceptual and motor systems."
One current area of research is the "Rough Terrain Project," which investigates how humans and other animals are able navigate uneven terrain. In this project, Fajen and his students are exploring how visual information is used to walk over rough terrain with irregularly-spaced safe footholds. They have developed a novel experimental paradigm in which subjects walk over an array of randomly distributed virtual obstacles that are projected onto the floor by a LCD projector while their movements are recorded using a full-body motion capture system. This setup allows them to synchronize the appearance of obstacles with the movement of the subject. For example, in one experiment, obstacles appear only when they lie within a moving window of visibility centered on the subject. By manipulating the size of the window of visibility, they are measuring how far along the future path visual information is needed to control foot placement.
As director of the Perception and Action (PandA) Laboratory, Fajen publishes regularly, with recent articles appearing in the Journal of Experimental Psychology: Human Perception and Performance, PLOS ONE, Perception, and the Handbook of Spatial Cognition. 
Fajen is the recipient of a four-year grant from the National Institutes of Health for a project titled "The visual guidance of locomotion," and, in addition to his teaching and research, he is associate editor of Journal of Experimental Psychology: Human Perception and Performance.
Publications
The following is a selection of recent publications in Scopus. Brett Fajen has 63 indexed publications in the subjects of Psychology, Neuroscience, Medicine.