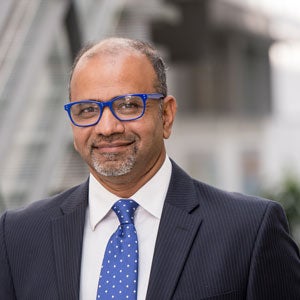 Director of the Center for Biotechnology and Interdisciplinary Studies and Professor
About
Director of the Rensselaer Polytechnic Institute Center for Biotechnology & Interdisciplinary Studies (CBIS), conducting breakthrough research on bones, Deepak Vashishth, PhD, is working to redefine the role of a top tier research university: one that is engaged in public and private partnerships, involved in interdisciplinary research, and providing quality education, all to drive entrepreneurial, sustainable, socially responsible scientific discovery and technological innovation. Administrative leadership: Through his work as a University Center Director, previously as a School of Engineering Department head, and in professional societies he has successfully developed partnerships, Programs, and platforms, to drive translational scientific research across disciplines, sectors,and geographic boundaries. As Director of CBIS he oversees 70 resident and non-resident faculty (from each of the five Rensselaer Polytechnic Institute schools); engages with global partners in the public, private, and academic sectors; and fosters innovative graduate and undergraduate research and education initiatives. In his first two years as CBIS Director he has: envisioned and facilitated the creation of two transformative research centers (Bioimaging Center and Center for Translational Research in Medicine); led the development of an industry partners program to enhance technology transfer and commercialization; and broadened the scope of interdisciplinary research by combining biotechnology with architecture, humanities, and management. As Department Head of Biomedical Engineering (BME) in the School of Engineering at Rensselaer, in just 3 years he dramatically grew and strengthened the department: increased tenured faculty tenfold (1 to 10); added a senior endowed chair to its rank; and it became home to 7 NSF career awardees and recipient of more than 10 NIH RO1 awards (from 2 in 2009). As a committee member of the Orthopaedic Research Society, he developed and facilitated a "Symposium in Translational Medicine" designed to accelerate the transition of discoveries from lab bench to bedside by bridging the gap between clinical, basic science & engineering, government agencies (FDA) and industry. Research leadership: Dr. Vashishth's research interests are in the area of biomolecular science and engineering of extracellular matrix with particular emphasis on diagnosis and treatment of osteoporosis and bone tissue engineering. His collaborative, interdisciplinary bone research is redefining how osteoporosis will be diagnosed and treated. In 2012 he was elected Fellow of the American Institute of Medical and Biological Engineering (AIMBE) for contributions to the understanding of how both age and collagen‐modification affect bone fragility (cited over 1000 times). AIMBE fellows represent the top 2% of the medical and biological engineering community in the world and are elected based on nomination and vote by AIMBE fellows (http://aimbe.org/college-of-fellows/cof-1479/). He has opened new avenues for diagnosing and treating osteoporosis by developing a new technique to identify bone proteome from nanoscale samples. The process also has been applied for analyzing precious fossils. He is bringing his breakthrough research to market, co-founding a company (Orthograft plc), to produce the acellular biomimetic grafts for bone repair. Professor Vashishth and his research group have published over 200 peer-reviewed journal publications and conference proceedings in top journals including PNAS, Molecular and Cellular Proteomics, Plos One and others. His work presented in the form of over 100 invited and contributed lectures has been cited as a "New Hope for Osteoporosis Patients" and "Secret Formula for Bone Strength" in mainstream media. Working in collaboration with others, his research group has identified new structural roles for bone proteins and developed new biomimickry-based strategies for tissue engineering scaffolds. In addition to being a Fellow of and active in the AIMBE, he serves as a member of the National Institutes of Health study section on Skeletal Biology and Skeletal Regeneration. He is a board member of the Journal of the Mechanical Behavior of Biomedical Materials and a regular reviewer for other federal and international funding agencies, private foundations and university grants, and journals. He also is a member of the Biomedical Engineering Society, American Society of Bone and Mineral Research and the Orthopaedic Research Society. Educational leadership: Fundamentally focused on education, he is preparing the next generation of researchers and the "faculty of the future" by infusing undergraduate and graduate programs with a more interdisciplinary, collaborative, global perspective on sustainable, translational scientific research. In recognition of his dedication to education, he has won Rensselaer awards for outstanding and innovative classroom teaching including the Class of 1951 Outstanding Teaching award. As CBIS Director, he established new global partnerships, redesigned graduate training programs, and developed a new course, all designed to prepare the "faculty of the future," focused on sustainable collaborative interdisciplinary research and technology transfer and commercialization. As BME department head (2009-2013): expanded the graduate program three-fold (from 20 to 60 students), attracted more highly qualified graduate students, and promoted early success (National fellowships). He overhauled curriculum, to enhance learning and to improve the undergraduate experience, by reducing class size and providing hands-on education in a technologically connected classroom. Background: He earned his B. Eng with honors from Malaviya National Institute of Technology (India), MS from West Virginia University (USA) and PhD from the University of London (UK). He then conducted post-doctoral research at the Bone and Joint Center, Department of Orthopaedic Surgery, Henry Ford Hospital before joining Rensselaer as an Assistant Professor in Biomedical Engineering in 1999.
Education & Training
Ph.D., University of London, 1997
Research
Other Focus Areas
Bone, osteoporosis, Tissue Engineering, Regenerative Medicine, Glycation, Diabetes, Glycation, Osteocalcin, Osteopontin, Collagen, Fracture, entrepreneurship, biotechnology
Publications
The following is a selection of recent publications in Scopus. Deepak Vashishth has 147 indexed publications in the subjects of Medicine, Biochemistry, Genetics and Molecular Biology, and Engineering.