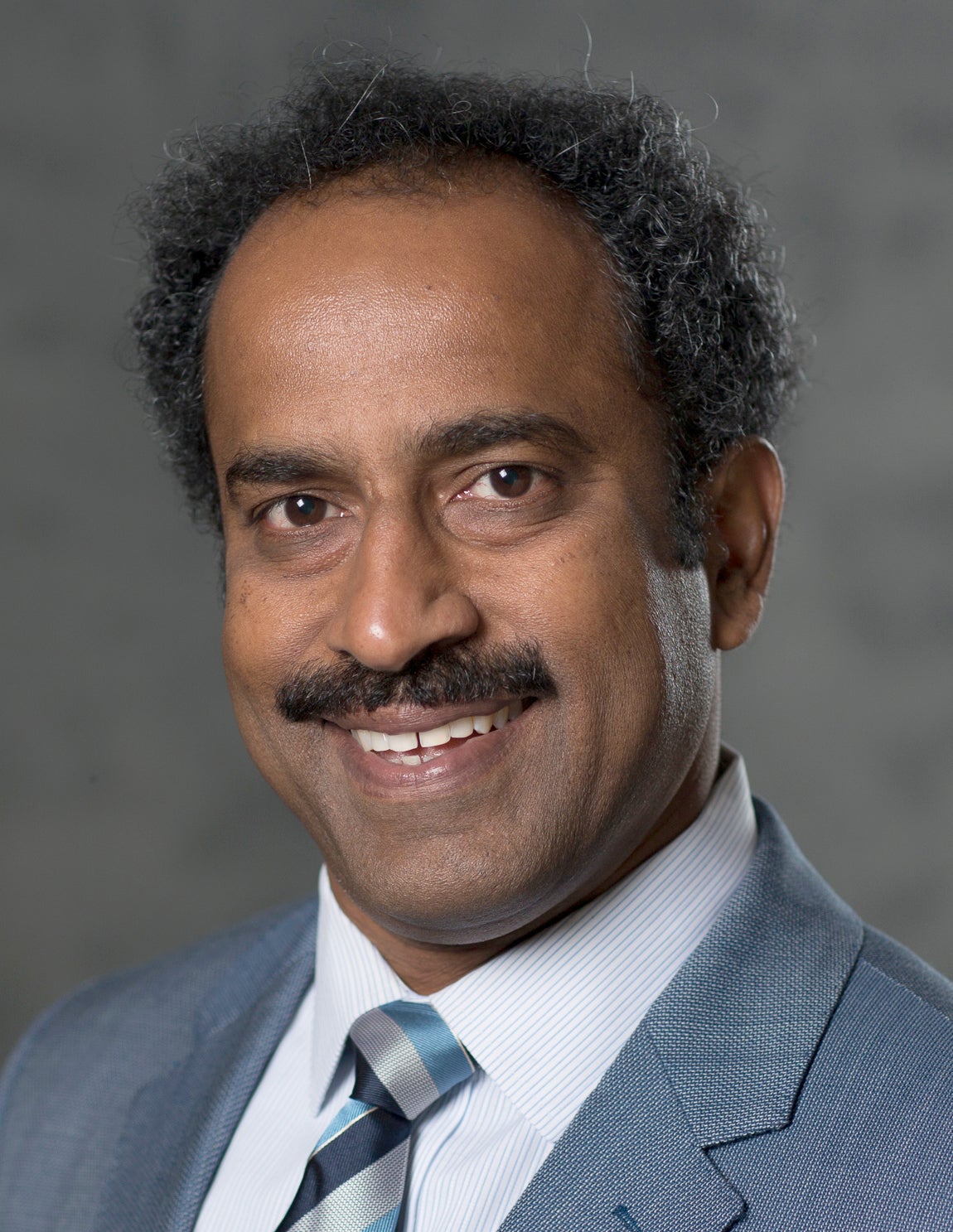 John Tod Horton Professor of Engineering
About
Professor Ramanath received his Ph.D. in Materials Science and Engineering from the University of Illinois-Urbana in 1997. His doctoral work won him a Materials Research Society Graduate Student Award (now known as the Gold Award). He obtained his B.Tech. in Metallurgical Engineering from the IIT, Madras, India, and his M.S. in Materials Science and Engineering from the University of Cincinnati. He was a staff member at Novellus Systems, CA, and a Visiting Scientist at the Physics Department of Linköping University, Sweden, before he joined the Rensselaer faculty in Fall 1998 as an Assistant Professor. He became a tenured Associate Professor in 2003, and was promoted to full Professor in 2006. He was named John Tod Horton Professor in 2013.
His research focuses on developing a fundamental understanding of structure-processing-property relationships in molecularly-tailored inorganic thin film and bulk nanomaterials and interfaces, and harnessing them for energy and electronics applications.
Professor Ramanath has co-authored 175 journal articles (Google Scholar h-index 50, ~9900 citations), one book chapter, and holds 9 US patents. He has delivered more than 225 invited/plenary/keynote talks worldwide, and has organized several international symposia and workshops for MRS, AVS and TMS. He co-founded ThermoAura Inc, served as the Director of the NY State Center for Future Energy Systems and an Editor of IEEE Transactions on Nanotechnology (2003-15), and is an Editorial Advisory Board member for Journal of Experimental Nanoscience.
Honors and awards (select):
• Fellow of the Materials Research Society (2018)
 
• Fellow of the American Physical Society (2017), Senior member IEEE (2017).
 
• Fellow of the American Vacuum Society (2013)
• Friedrich Wilhelm Bessel Award, Alexander von Humboldt Foundation, Germany (2013).
• Brahm Prakash Visiting Professorship, IISc Bangalore, India (2013).
• Rensselaer Team Excellence Award (2013)
• Rensselaer Research Excellence Award (Senior professor 2012, Early-career professor 2002).
• Best paper award IEEE Nano (Hong Kong, 2007).
• Alexander von Humboldt Fellow (2004)
• Professor Bergman Young Scientist Award US-Israel Binational Science Foundation (2003)
• National Science Foundation CAREER award (2000)
• IBM Research Partnership Award (2000-2013)
• Materials Research Society Graduate Student Award for Outstanding Research (1996).
 
Visiting appointments (select):
• Visiting Professor, Linköping University, Sweden; Dept. of Physics, Chemistry and Biology (2019-).
• Distinguished visiting professor, PSG Institute of Advanced Studies, Coimbatore, India (2017-)
• Visiting professor, RWTH, Materials Chemistry Department, Aachen University, Germany (2013-14)
• Brahm Prakash Chair Professor, IISc, Bangalore, India (2013), Visiting Professor (2006)
• Visiting professor, The Max-Planck-Institute for Solid State Research, Stuttgart, Germany (2004-5)
• Visiting professor, NIMS-ICYS/WPI, Tsukuba, Japan (2004, 2010)
• Visiting professor, University of Wollongong, Australia (2007)
Research
Other Focus Areas
Nanomaterials, thin films and interfaces for energy and electronics, Discovery of novel materials phenomena and properties, Atomistic/molecular-level interface science and engineering, Materials processing and manufacturing, Nanoscience and nanotechnology, composites