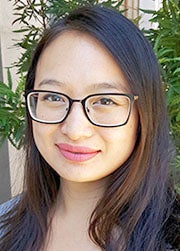 About
Dr. Helen Zha received her B.Sc. (2007) from MIT and her Ph.D. (2013) from Northwestern University in Materials Science & Engineering. After pursuing postdoctoral research at Eindhoven University of Technology and UC Berkeley, Helen started as a tenure-track assistant professor at Rensselaer Polytechnic Institute in the Department of Chemical & Biological Engineering in 2018. Helen has received an NSF CAREER Award, published 22 peer-reviewed journal articles to date (Google Scholar Page), and currently sits on the Advisory Board of Materials Innovation Initiative.
Research
Other Focus Areas
Biomimetic and Bio-inspired Materials, Nanostructured Soft Matter, Molecular Engineering and Self-assembly, Nanomedicine, Materials for Energy and Sustainability
Publications
The following is a selection of recent publications in Scopus. Helen Zha has 32 indexed publications in the subjects of Materials Science, Engineering, Medicine.