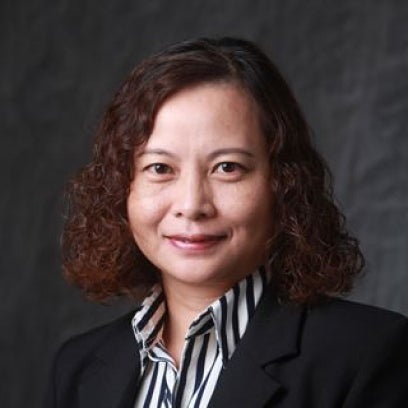 Associate Professor & Graduate Program Director
About
Yalun Helen Zhou has an interdisciplinary background in applied linguistics, curriculum design, and program evaluation. Her work involves second language acquisition, sociolinguistics, multimodal literacy design with emerging technology, and user experience research on virtual platforms (e.g., gamified, game-based, and cognitive immersive).
Before joining RPI, Zhou worked at Michigan State University, collaborating with Michigan Virtual Learning Research Institute to offer an online Chinese program through massively multiple-player online role-playing games (MMORPGs).
At RPI, besides teaching, she is among the core faculty of The Mandarin Project, a research initiative between Rensselaer's CISL (Cognitive Immersive Systems Laboratory) and IBM. She is also affiliated with the Games & Simulation Arts & Sciences (GSAS) Program and Critical Game Design Graduate Program. With CISL, she leads the content development and instructional design of The Mandarin Project. She collaborates with virtual immersive learning environments teams in designing 360-degree panoramic language interaction, multimodal conversation with embodied AI agents, game narratives, and pitch tone contour analysis systems. Her multi-disciplinary faculty collaborators and student researchers come from a variety of fields, including computer science, cognitive science, game design, simulation arts, and architectural acoustics.
Education & Training
Ph.D., University of Missouri-Kansas City
Research
Helen Zhou's primary research focuses on the science and culture of learning and teaching. She believes that learning theory can be informed by empirical studies in classrooms, and conversely, classroom practices can benefit from the advancement in learning theory. She studies how different learning environments (traditional, virtual, VR, and XR, immersive, or mixed) can best assist language and culture acquisition. Besides, Zhou investigates culture's role and sociocultural impact on multilingual users. Utilizing a post-structuralist framework and phenomenological narrative inquiry, her recent book examines the academic journeys and the emergent cohesive behaviors of Chinese international students in China and the United States. The narrative analysis attempts to understand the "why" behind the storytellers' decision-making rather than to seek solutions ("how") for specific problems.  
Zhou is currently the Editor of the Journal for Distinguished Language Studies. Her scholarly work has been published in a wide variety of academic venues, including CALL, Learning Environment Research, System: An International Journal of Educational Technology and Applied Linguistics, Journal of Technology and Chinese Language Teaching, Immersive Learning Research Network, ACM DIS, HCI International, AAAI, iLERN, The Journal of the Acoustic Society of America, and Studies in Second Language Learning and Teaching.
Other Focus Areas
Applied Linguistics
Technology-Assisted Learning (CALL, AI, games)
Learning Environments (traditional, virtual, immersive)
Phenomenology and Narrative Inquiry
Intercultural Communication
Teaching
Helen Zhou teaches all levels of Chinese language courses and topics courses in Chinese culture and social media.
She regularly serves on graduate student committees in the areas of communication and rhetoric (CMRT), games, simulation arts, and sciences (GSAS), critical game design (CGD), and computer sciences. Her past and current advisees design AI-embodied platforms and serious learning games, investigate user decision-making processes in cyber security discussions, research the game culture in China and explore the impact of games on society and the game market. She welcomes graduate students interested in cultural heritage games, user research design in immersive and/or game-based environments, the science and culture of learning, and intercultural communication.
Recognition
Awards & Honors
Helen Zhou was the recipient of Rensselaer's Class of 1951 Outstanding Teaching Award in 2017.
Publications
The following is a selection of recent publications in Scopus. Helen Zhou has 9 indexed publications in the subjects of Social Sciences, Computer Science, Arts and Humanities.