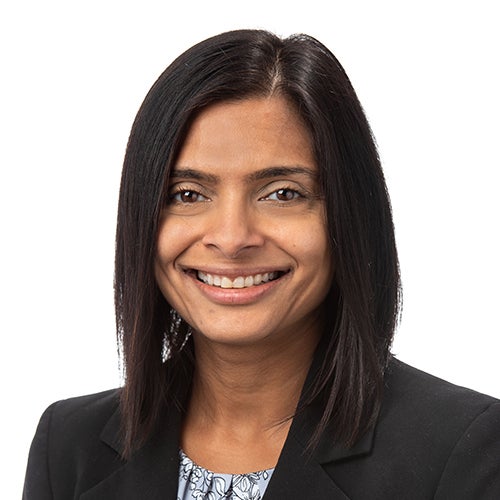 About
Programs Taught
Mechanical Engineering, Systems Engineering, Leading Change and Innovation
Bio
Himali Stoccatore is the Chief of Staff to the President of Commercial Engines at Pratt and Whitney.  
Previously, she led a demand planning and forecasting team for the commercial aftermarket. She headed the Forecasting Center of Excellence, establishing policies, procedures, and tools for demand planning, and is a certified Project Management Professional. 
Himali started her career as an engineer at Custom Electronics and later joined Raytheon Technologies as a Project Engineer. She is a graduate of the UTC Operations Leadership Program and has held roles of increasing responsibility since that time. Himali has also worked in the life sciences industry at Taconic Biosciences as a Product Director.  
Himali is an Instructor Mentor at Rensselaer at Work and enjoys providing hands-on tools to her graduate students through a project-based approach they apply in real-time.  
She also volunteers on the board of the Glastonbury Education Foundation to fund public education projects. 
Other Professional Experiences
Pratt & Whitney – Chief of Staff to the President of Commercial Engines
Pratt & Whitney – Director of Commercial Aftermarket, Demand Planning & Forecasting
Taconic Biosciences – Director of Product Management and Scientific Services
Collins Aerospace – Sales, Inventory and Operations Planning Manager
Collins Aerospace – Strategic Sourcing Manager
Pratt & Whitney – Deputy Quality Manager
United Technologies – Operations Leadership Program
Hamilton Sundstrand – Project Engineer
Other Certificates and Licenses
Project Management Professional (PMP)
Certified in Production and Inventory Management (CPIM)
Education & Training
MBA, Tepper School of Business, Carnegie Mellon University
M. Eng., Electrical Engineering, SUNY Binghamton
B.S., Electrical Engineering, University of Mumbai
Research
Other Focus Areas
Portfolio Management, Supply Chain and Operations, Strategy and Change, Business Process Improvement and Tactical Planning