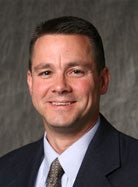 Associate Professor and Associate Head for Academic Affairs
About
Dr. Symans' research interests include Structural Dynamics, Earthquake Engineering, Seismic Isolation and Energy Dissipation Systems, Structural Vibration Control and System Identification. Professor Symans' general field of research is structural earthquake engineering with a primary emphasis on the development of advanced seismic protection systems for application to building and bridge structures. In addition, he has investigated methods of analysis for evaluating the seismic performance of structures, methods for identifying the dynamic properties of structural systems, and approaches for predicting the seismic performance of buried lifelines. The overarching goal in all of his research is to improve the performance of the built infrastructure such that losses are reduced in future earthquakes. The majority of Professor Symans' research is conducted within the Rensselaer School of Engineering Center for Earthquake Engineering Simulation (CEES).
Education & Training
Ph.D., Civil Engineering (University at Buffalo)
Research
Other Focus Areas
Structural Dynamics, Earthquake Engineering, Seismic Protection Systems
Publications
The following is a selection of recent publications in Scopus. Michael Symans has 73 indexed publications in the subjects of Engineering, Earth and Planetary Sciences, Agricultural and Biological Sciences.