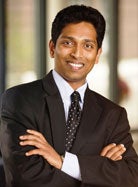 About
Prof. Pankaj Karande joined the Chemical and Biological Engineering Department at Rensselaer in January 2008. Before joining Rensselaer, Dr. Karande was a postdoctoral scholar in the Chemical Engineering Department and Center for Cancer Research at Massachusetts Institute of Technology. Dr. Karande has received numerous awards for his work including The Edison Award for best Product in Science and Medicine (2009), The Anna Fuller Fellowship in Molecular Oncology (2006-2007), Outstanding Pharmaceutical Paper by the Controlled Release Society (2005) and the Fionna Goodchild Award for Excellence in Undergraduate Mentoring (2004). Dr. Karande is an inventor on several patents in the area of Transdermal Formulation Discovery and Novel High Throughput Screening Platforms.
Research
Other Focus Areas
Drug discovery, Drug delivery, Peptide engineering, High throughput screening, Vaccine design, Biomaterials design
Publications
The following is a selection of recent publications in Scopus. Pankaj Karande has 58 indexed publications in the subjects of Biochemistry, Genetics and Molecular Biology, Chemical Engineering, Pharmacology, Toxicology and Pharmaceutics.