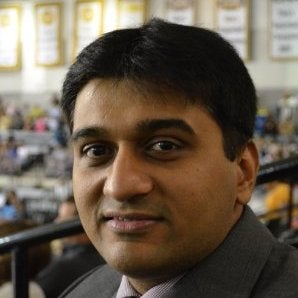 About
Programs Taught
Business Intelligence, Production Analytics, Machine Learning and AI
Bio
With 22 years of experience in various management and technology consulting positions, Rushabh has an extensive background in data science, machine learning, artificial intelligence, data governance and data architecture. He has worked across multiple industries including healthcare, life sciences, insurance, auto manufacturing and food retail. His reputation is renowned for leading and strategizing enterprise-level transformation initiatives to monetize available data using the power of analytics and thereby reducing operational cost, improving customer satisfaction, and increasing revenue. In his quest to expand his knowledge base in data science best practice, Rushabh completed a Master of Science in Predictive Analytics from Northwestern University. He has worked with top consulting firms like Infosys and Capgemini and has recently joined TheMathCompany, a fast-growing analytics start-up, as a Partner. 
Other Professional Experience
Other Certificates and Licenses
Certified Scrum Master
Capgemini certified Level 1 Engagement Manager
Riversand certified Level 1 Product Information Management (PIM) Professional
Certified Software Quality Analyst (CSQA)
Infosys certified Project Management Professional
American Health Insurance Plans Certified Professional
Education & Training
M.S., Northwestern University, Predictive Analytics
B. Eng., Maharaja Sayajirao University Baroda, Metallurgical Engineering
Research
Other Focus Areas
Data Science
Advanced Analytics
Big Data
Data Management
Business Intelligence
Data Integration, Data Governance, and Data Architecture.