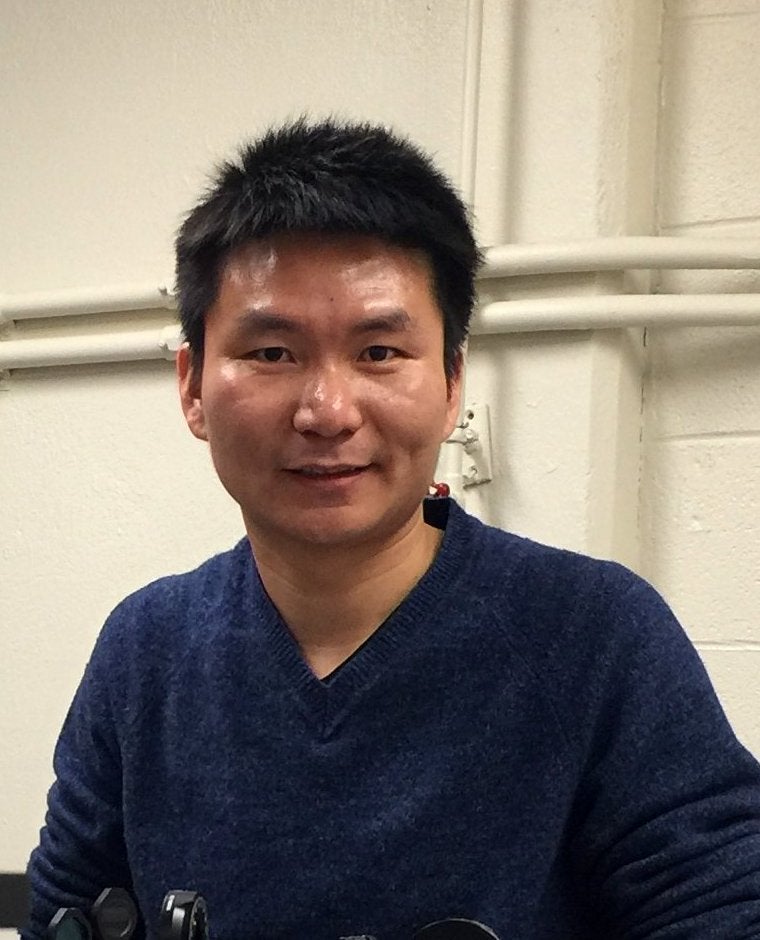 About
https://homepages.rpi.edu/~shij4/jianshicv.pdf
Education & Training
Postdoc in Applied Physics at Harvard University, 2014. 
Ph.D. in Materials Science at the University of Wisconsin at Madison in 2012. 
M.S. in Mechanical Engineering at the University of Missouri at Columbia in 2008. 
B.S. in Materials Science and Engineering at Xi'an Jiaotong University in China in 2006.
Other affililations:
Physics, Applied Physics & Astronomy
Research
My group works on obtaining basic understanding on the roles of photon, carrier momentum, symmetry and phonon of novel materials on the transport behaviors, spin dynamics and optoelectronic properties and developing experimental approaches and solutions on searching for new electronic materials and device structures towards energy-efficient, high-performance spin and neuromorphic computing. Materials of interest include van der Waals solids with strong spin-orbit coupling, polar and ferroelectric crystals, chiral crystals, materials with tunable Berry parameters, and Rashba and Dresselhaus materials. We use optical, optoelectronic and transport approaches to investigate the polar, spintronic, chiral and topological properties. We fabricate microelectronic, optoelectronic, and spintronic devices for testing the theoretical and computational predictions. We also apply novel epitaxy, strain engineering, strain gradient engineering, dimensionality effect, phonon engineering and symmetry engineering to design the physical properties of materials.
Primary Research Focus
Polar, spintronic, chiral and Berry parameters-tunable materials for computing and energy.
Recognition
Awards & Honors
IEEE Ferroelectrics Young Investigator Award, 2023
Associate Editor of Journal of Applied Physics, 2020-present 
James M. Tien '66 Early Career Award, 2020  
Early Career Member in the Editorial Advisory Board of Journal of Applied Physics, 2020 
ASM International Geisler award, 2019 
Rensselaer Polytechnic Institute School of Engineering Research Excellence Award, 2018 
Air Force Office of Scientific Research (AFOSR) Young Investigator Research Program (YIP) Award, 2018
Publications
Recent Select Publications (" * ": the first author is Jian Shi's student or postdoc)
Zhang L, Jiang J, Multunas C, Ming C, Chen Z, Hu Y, Lu Z, Pendse S, Jia R, Chandra M, Sun Y-Y, Lu T-M, Ping Y, Sundararaman R, Shi J*.
Room-temperature electrically switchable spin–valley coupling in a van der Waals ferroelectric halide perovskite with persistent spin helix, Nat. Photonics, 2022, 10.1038/s41566-022-01016-9.
Jiang J, Zhang L, Ming C, Zhou H, Bose P, Guo Y, Hu Y, Wang B, Chen Z, Jia R, Pendse S, Xiang Y, Xia Y, Lu Z, Wen X, Cai Y, Sun C, Wang G-C, Lu T-M, Gall D, Sun Y-Y, Koratkar N, Fohtung E, Shi Y, Shi J*.
Giant Pyroelectricity in Nanomembranes, Nature, 2022,607, 480–485.
Zhang L, Jiang J, Hu Y, Lu Z, Wen X, Pendse S, Jia R, Wang G-C, Lu T-M, Shi J*.
Liquid-Phase van der Waals Epitaxy of a Few-Layer and Unit Cell Thick Ruddlesden-Popper Halide Perovskite. J. Am. Chem. Soc., 2022, 144, 38, 17588.
Jiang J, Chen Z, Hu Y, Xiang Y, Zhang L, Wang Y, Wang GC, Shi J*.
Flexo-Photovoltaic Effect in MoS2. Nat. Nanotechnol., 2021, DOI: 10.1038/s41565-021-00919-y.
Hu Y, Florio F, Chen Z, Phelan W. A., Siegler M. A., Zhou Z, Guo Y, Hawks R, Jiang J, Feng J, Zhang L, Wang B, Wang Y, Gall D, Palermo E. F., Lu Z, Sun X, Lu T-M, Zhou H, Ren Y, Wertz E, Sundararaman R, Shi J*.
A chiral switchable photovoltaic ferroelectric 1D perovskite. Sci. Adv., 2020, 6, eaay4213.
Guo Y, Sun X, Jiang J, Wang B, Chen X, Yin Y, Qi W, Gao L, Zhang L, Lu Z, Jia R, Pendse S, Hu Y, Chen Z, Wertz E, Gall D, Feng J, Lu TM, Shi J* 
A reconfigurable remotely epitaxial VO2 electrical heterostructure. Nano Lett., 2020, 20, 33.
Jiang J, Sun X, Chen X, Wang B, Chen Z, Hu Y, Guo G, Zhang L, Ma Y, Gao L, Zheng F, Jin L, Chen M, Ma Z, Zhou Y, Padture NP, Beach K, Terrones H, Shi Y, Gall D, Lu TM, Wertz E, Feng J, Shi J*

 
Carrier lifetime enhancement in halide perovskite via remote epitaxy. Nat. Commun. 2019, 10, 4145.
Wang Y, Sun X, Chen Z, Cai Z, Zhou H, Lu TM, Shi J*. 
Defect-engineered epitaxial VO2±δ in strain engineering of heterogeneous soft crystals. Sci. Adv. 2018, 4, eaar3679.