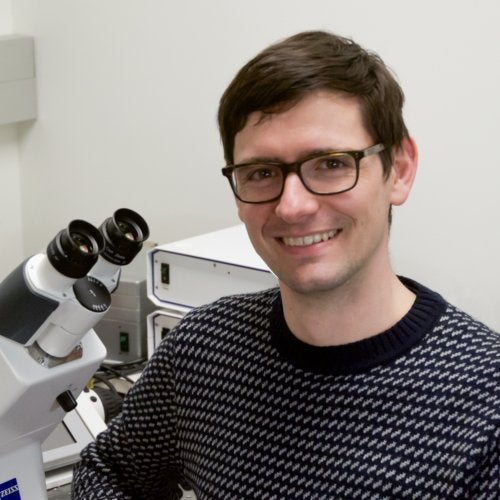 CBIS 2123

0000-0002-1754-0332
About
Dr. Bentley received his Ph.D. in 2010 in the laboratory of Jesse Hay at the University of Montana where he developed assays to monitor endoplasmic reticulum to Golgi transport in mammalian cells. He then completed a postdoc with Gary Banker at the Oregon Health & Science University, where he designed assays to determine kinesin–vesicle interactions in cultured hippocampal neurons by live-cell imaging. He joined the faculty in the Department of Biological Sciences at the Rensselaer Polytechnic Institute in the summer of 2017. The Bentley lab uses a variety of cell biological approaches to understand the mechanisms that underlie intracellular vesicle transport in neurons.
Education & Training
Ph.D. University of Montana, Missoula, 2010 - Cell Biology 
Postdoctoral Researcher, Oregon Health & Science University, 2010-2016 - Neuroscience and Cell Biology
Research
Nearly every aspect of neuronal function depends on the accurate transport of membrane proteins to axons or dendrites. Axons conduct electrochemical action potentials and primarily send signals, whereas dendrites primarily receive signals. Because these two domains have distinctly different functions, they each require a specific complement of membrane proteins. These proteins are delivered to their cargo by vesicle transport. Vesicle carriers that contain axonal proteins are transported to the axon; vesicle carriers that contain dendritic proteins are transported to dendrites and excluded from the axon. This phenomenon of directed vesicle movement to dendrites or the axon is referred to as selective transport. Understanding the molecular regulation of vesicle transport is a fundamental problem in neuroscience and cell biology and defects in vesicle transport are thought to underlie the axonal degeneration characteristic of many neurodegenerative diseases. Intracellular carriers are moved by motor proteins that generate locomotive force. One family of motor proteins are kinesins. 
Our long-term goal is to determine the molecular regulation of kinesin motors and understand how they confer specific transport behaviors to vesicles that move cargoes to axons and dendrites. Our lab uses a variety of cell biological approaches to understand the molecular mechanisms that underlie intracellular vesicle transport. Primarily, we apply live-cell fluorescent microscopy to track and measure individual vesicle carriers as they move inside cells. Our experiments also rely heavily on molecular biology, biochemistry, and tissue culture techniques. 
Other Focus Areas
Neuroscience, Cell Biology, Membrane trafficking, Molecular motors, Live-cell imaging
Teaching
Current Courses
BIOL 4140/6140 - Cytoskeletal Biology 
This course is an in-depth study of current research within the broad field of cytoskeletal biology. Students will read, interpret, and critique recent primary literature, present new findings, lead discussions, and identify rising questions in the field. 

BIOL 4150/6150 - Cellular Neuroscience 
Neurons are uniquely organized to facilitate signal transmission and information processing in the brain. This course will examine the mechanisms that develop and maintain neurons, the unusual cell-biological problems these cells solve, and the experimental tools that drive modern neuroscience research. Students will read current scientific literature, evaluate it critically, and develop a research project.
Publications
The following is a selection of recent publications in Scopus. Marvin Bentley has 18 indexed publications in the subjects of Biochemistry, Genetics and Molecular Biology, Medicine, Materials Science.